GOURMET pOPCORN FLAVORS
Mama Moore's offerings are light, crunchy, vibrant, and always delicious. Below is a showcase of our gourmet flavored product offerings of sweet, savory, and premium popcorn.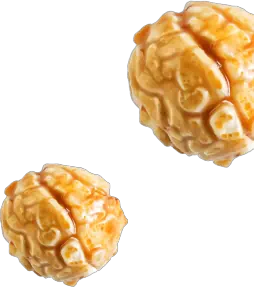 Did you know? Popcorn has become America's favorite snack food. And a recent survey by the National Today data science team found that around 41% of popcorn lovers prefer sweet tastes.


Banana
If you enjoy bananas, you will love this gourmet popcorn with its gold nugget appeal and sweet, fruity tease with every bite. It fuses tropical banana flavor with delicate, fluffy popcorn, guaranteed to bring your senses to life.
Banana Pudding
With its sweet and fruity taste, this instant-classic popcorn flavor tastes like it's fresh from grandma's kitchen. It's a magical blend of banana, creamy white chocolate, and tidbits of vanilla wafer for a flavorful crunch.
Birthday Cake
Mama Moore's premium birthday cake popcorn is a party in a bag, full of your favorite childhood flavor. It's a big hit at any celebration, thanks to its mouth-watering and eye-catching appeal topped with colorful party sprinkles.
Blue Raspberry
You gotta see it and then taste it to believe it. Mama Moore's handcrafted blue raspberry-flavored popcorn is a vibrant pile of goodness popped just for you! This naturally-seasoned product is so yummy with a delightful taste of nature that's sweet with just a touch of acidity.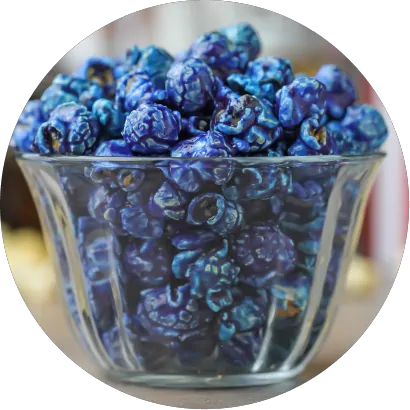 Blueberry
A flavorful blend of popcorn in brilliant blue with the slightly sweet tang of blueberries—one of America's favorite fruits. Satisfy your palate with a delicious, authentic flavor you can enjoy year-round as the ideal everyday snack.
Buffalo
A zesty, buttery buffalo gourmet-flavored popcorn for those who enjoy a little spice in their snack. Our buffalo popcorn is the go-to nibble for game days and makes a great midnight bite in the unlikely event there's any left over! Who knew popcorn could taste this good?
Caramel
& Apple Mix
A delectable snack peppered with the flavor of perfectly tart apples paired with a drizzle of sweet, creamy caramel. But be warned; our yummy caramel & apple mix gourmet popcorn is hard to put down!
Caramel with Peanuts
Non-GMO premium super fresh peanuts combined with our gourmet popcorn, and all of it coated in a sweet, buttery caramel shell to create the perfect snack profile for those who love crunch. It looks too good to eat!
Caramel with Pecans
The classic Southern taste of pecan and caramel is a must for sweet tooth snackers. This satisfying buttery classic combines caramel-coated toasted pecans with our buttery popcorn for a scrumptious candy-like crunch that's hard to resist.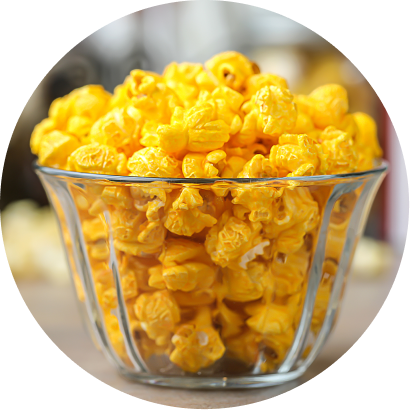 Cheddar Cheese
Mama Moore's original cheddar cheese gourmet popcorn is a local favorite. It's an airy, savory snack that has a perfect balance of cheddar. So next time you have a craving for a cheesy snack, reach for a bag of our rustic cheddar popcorn.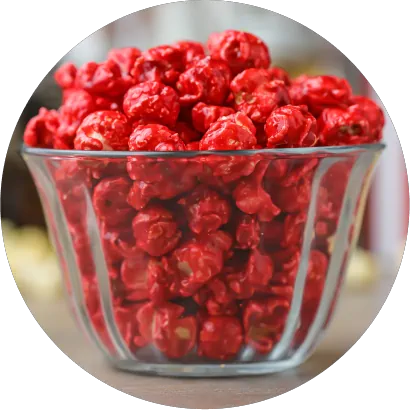 Cinnamon
Relish in the warm, slightly woody flavor of cinnamon popcorn infused with a comforting sweetness. This freshly popped treat with its sugary, crunchy notes makes it a fall classic and an appetizing snack for kids, adults, and families year-round.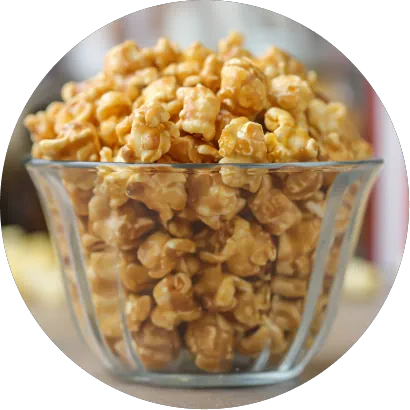 Classic Caramel
Our irresistible classic caramel gourmet popcorn never goes out of style, and for good reason. The gorgeous, buttery, fresh-tasting caramel flavor envelopes each golden-flaked blossom. And every bite offers a soothing, sweet, and crunchy experience you're guaranteed to love.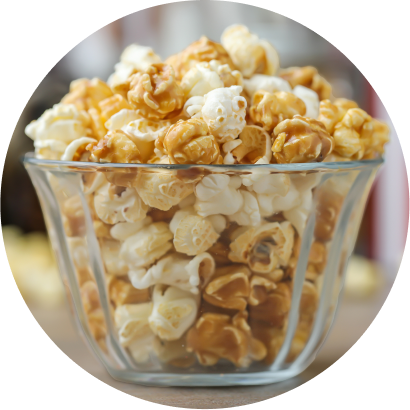 DENVER
(WHITE CHEDDAR AND CARAMEL)
A fan favorite, combining the deliciously sharp white cheddar, the right amount of saltiness, and the luxurious taste of buttery caramel. Together they create a delicious blend of savory and sweet that will keep you reaching for another handful.
Dill Pickle
Delight in your puckered lip after snacking on our fresh dill pickle savory popcorn. It's a scrumptious, tangy snack seasoned with an ingenious blend of Mama Moore's select pickling spices. Dill pickle popcorn is the perfect nibble anytime. Liven up your next movie night by mixing our dill pickle and movie theater butter flavors together!
Ebony & Ivory
Ebony & Ivory is a favorite, premium popcorn drizzled with silky smooth ribbons of sweet milk chocolate and white chocolate. A subtle sprinkling of natural sea salt deepens the chocolate flavor and enhances every bite of the heavenly combination.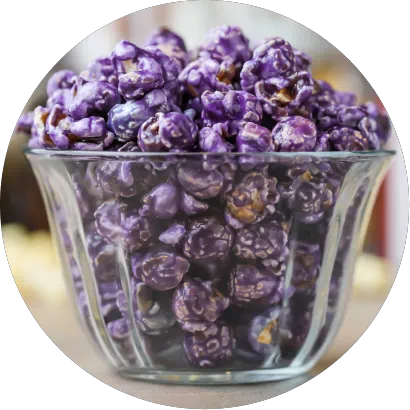 Grape
Mama Moore's gourmet grape popcorn presents fresh crunchy nibbles bursting with an intense sweet grape flavor in a pretty purple hue. This classic flavor mixed with light, fluffy bites make a crowd-pleasing snack for folks of all ages at home or on the go.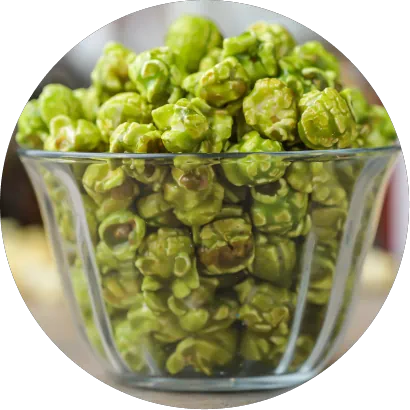 Green Apple
Got the munchies? Meet our crisp and crunchy, tangy, and perfectly tart green apple gourmet popcorn. The light crispness, fresh taste, and bright apple glaze offer a refreshing sensation reminiscent of a warm summer's day. Every bag is like a tiny bushel of apples.
Kettle Corn
Look no further if you're a fan of the sweet and savory flavor of carnivals and fairs. Our kettle corn is popped using mushroom-style kernels to create a large, even surface to deliver the greatest amount of scrumptious sweet and salty seasoning to your taste buds.
Lemon
Our sweet lemon popcorn is a classic with a surprise element that tastes as good as it looks. Pause as you bite into the light, crisp coating, and savor the release of that sweet, citrus, and tart happiness.
Lemon Pound Cake
Lemon pound cake popcorn is a unique snack for lovers of sweet and slightly tart lemon flavors. Each tasty morsel kisses your taste buds with creamy white chocolate coating delivered with a zesty citrus crunch.
Loaded Baked Potato
All the flavors of fluffy hot baked potato without the skin, that's Mama Moore's loaded baked potato popcorn. We use a unique assortment of tantalizing ingredients such as bacon, cheese, and chives.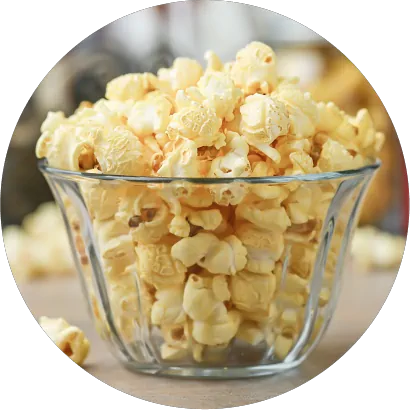 Movie Theater Butter
Movie theater hot buttered popcorn is a truly nostalgic snack adored by cinema fans in the theater and movie nights on the couch. This classic, desirable snack has a familiar aroma and airy crunch with a distinct classic buttery flavor that you can't say no to.
Orange
Mama Moore's sweet gourmet popcorn with its sun-ripened orange flavor is sure to make your mouth water. The slight citrusy flavor is tart and refreshing, just like the sun-kissed fruit. This anytime, anywhere, appetizing treat guarantees to satisfy your munchies.
Oreo
If you're looking for a snack to please the soul, this is it. Our authentic Oreo popcorn spoils your taste buds with a winning combination of premium white chocolate and the world's favorite crunchy cookie. Just don't try to dip your popcorn in milk!
Rainbow
Rainbow popcorn is an exciting combination of all our sweet and fruity flavors. Apples, berries, citrus, and more combine in gourmet freshness, crunch, vibrant color to create an explosion of great tastes. A great alternative to common sticky and sugary fruit candies.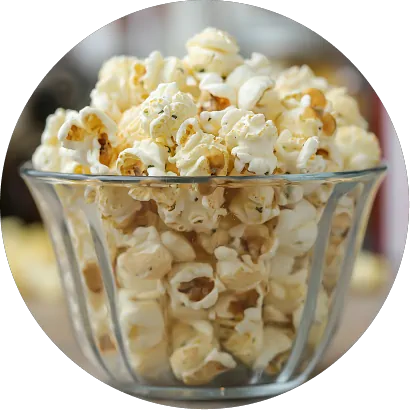 Ranch
A big, bold taste that pleases kids and adults alike. Almost any food can be improved with Ranch and our gourmet, melt-in-your-mouth popcorn is no exception!
Salted Caramel
The instant classic, an ultimate popcorn snack where sweet and savory meets fluffy crunch in the perfect blend. We cover every piece of our gourmet popcorn in a smooth wrap of melted caramel and a sprinkling of sea salt to produce a rich, chewy combo that stimulates the taste buds.
Snickers
Snickers peanuts, caramel, and milk chocolate, iconic flavors that have made Snickers a household name. Now get your favorite flavor trio together in crunchy, buttery popcorn form.
Spicy Cheddar
Mama Moore's spicy cheddar gourmet popcorn brings a little heat to your table. It's made using our unique blend of spices that promise a fiery hit with every bite of delicious cheese. Spicy cheddar popcorn is a satisfying nibble for anyone looking for a kick of spice in their snack.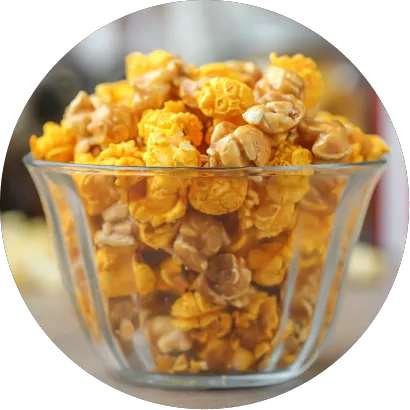 Spitfire
(spicy cheddar & caramel)
Another of our sweet and spicy savory popcorns, with a twist. The unlikely mix of caramel and spicy cheddar gourmet popcorn seasoning is a winning combination. Mama Moore's Spitfire mix takes gourmet popcorn to a whole new level. Try it today—you'll be glad you did.
Strawberry
Mama Moore's strawberry gourmet-flavored popcorn looks fantastic and tastes even better. If you're a fan of this seasonal berry, you're in for a treat. This springtime-flavored popcorn delivers a subtly crisp, light, and juicy strawberrylicious experience with every bite.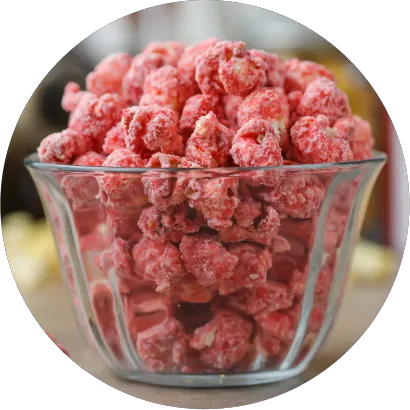 Strawberry Shortcake
Meet Mama Moore's premium strawberry shortcake popcorn clouds. They're creamy, crunchy, and loaded with flavor. Savor the moment your tongue meets the sweet notes of strawberry, vanilla, and shortcake. A divine taste wrapped in our creamy white chocolate coating.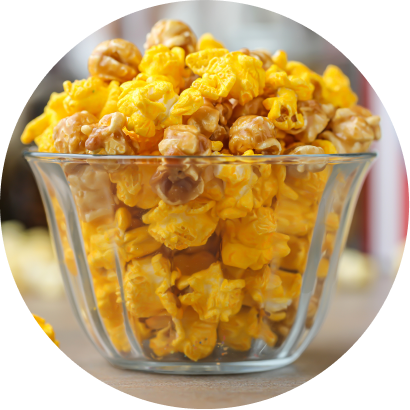 Texas 2 Step
(caramel and cheddar)
Savor the taste of the Lone Star State with our Texas 2-step popcorn. It's our take on the famous cheddar and buttery caramel snack food you won't be able to put down. A single bite releases a one-two flow of flavor into your mouth, where sweet meets savory. Yeehaw!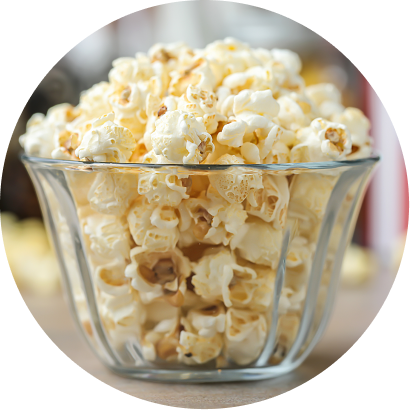 White Cheddar
White cheddar popcorn is a traditional snack with a distinctive cheesy, salty flavor and subtle crunch. Look no further if you long for airy yet crisp flakes that melt into cheddar flavor the moment they meet your tongue.
White Cheddar Jalapeño
Fuse smooth, creamy white cheddar with the hickory flavor and spice of jalapeno, and you have Mama Moore's white cheddar jalapeno. This popular treat has a great taste, pleasing texture, and a satisfying crunch with just the right bite of peppery spice.
White Chocolate
The luxurious flavor of white chocolate turned into an easy-to-take and easy-to-munch snack. Each large, buttery kernel of our gourmet popcorn is covered in decadent white chocolate for a melt-in-your-mouth snacking experience.
White Chocolate Pretzel
Mama Moore's white chocolate pretzel premium popcorn is heaven in a bag. Our sweet, slightly salty snack rewards you with a combination of gourmet white chocolate and the toasted crunch of pretzel.
Wild West Wings & Ranch
Combine our tangy, spicy buffalo popcorn flavor with a cool combination of ranch seasoning and you have the best of both worlds in one package. All the best of game-time buffalo wings and ranch dressing in an airy, crunchy, portable snack you can take anywhere.
Our Google Reviews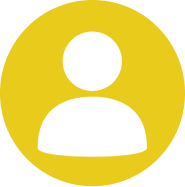 Lasonia Reed
This is some if the most AMAZING popcorn that I've ever had. Soo many flavors to choose from. From the savory cheddar, white cheddar, loaded baked potato. My favorite is dill pickle. End less sweet choices like caramel : plain with peanuts or pecans, caramel apple. I cannot remember them all…I just hope you go see for yourself. I will definitely be a repeat customer.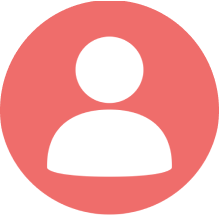 Kelah Fletcher-Garth
Mama Moore knows "What's Poppin." I normally buy online, but since I was in the area I decided to stop by. Greeted with a smell of greatness. Along with an amazing staff, plus Mama Moore herself. Not sure what to choose from…don't worry test it out before you buy. (Though I knew what I wanted) If you've never tried it, it's a MUST. Great flavor and very light. Because she has my business for sure
Sydney Tilger
Ordered 45 bags for a drive through baby shower as the party favor and they were super kind, knowledgeable and easy to order. The popcorn was sooooooo good. Excellent flavor. We had caramel and rainbow. I was shook that the rainbow was legit flavors, which was fun and yummy.